iOS 17: A Comprehensive Overview of New Features Release Dates and More
September 11, 2023
Introduction
iOS 17, unveiled during the highly anticipated Apple WWDC (Worldwide Developers Conference), stands as the most recent and substantial software upgrade designed specifically for iPhone users. In this release, Apple demonstrates its commitment to proactively enhancing the iOS ecosystem, with a keen focus on elevating the user experience across multiple essential aspects of the operating system. Chief among these areas are Messages, FaceTime, and the widgets system. In this comprehensive overview, we'll embark on a detailed exploration of the pivotal components of iOS 17, aiming to provide readers with a profound understanding of the extensive improvements and innovations encompassed within this update.
Also read: Pixel 8 Promo Unveils Audio Magic Eraser: A Creative Revolution
iOS 17 Betas
As of June, iOS 17 is available exclusively to developer beta testers, but there's a notable change to the developer beta testing process this year. Unlike previous versions, iOS 17 developer betas are now accessible to anyone who signs up for a free developer account, eliminating the need for a $99 annual subscription. However, it's important to exercise caution as these are "developer" betas and may come with bugs, performance issues, and potential battery drain. It's advisable not to rush into installing them. Later this month, Apple will release a public beta for iOS 17, which is expected to have fewer bugs and quirks than the developer betas.
iOS 17 Release Date
Apple has a well-established tradition of releasing new iOS updates in the month of September. Following the extensive beta testing phase, iOS 17 is highly anticipated to be officially launched to the general public in mid-September, aligning seamlessly with the release schedule observed in previous iterations such as iOS 16, 15, 14, 13, and 12. This consistent release timeline has become a hallmark of Apple's annual software updates, generating excitement and anticipation among iPhone users who eagerly await the new features and improvements that iOS 17 will bring to their devices.
Also read: WhatsApp Introduces Multi-Account Feature for Android Beta User: A Creative Guide
iOS 17 Supported Devices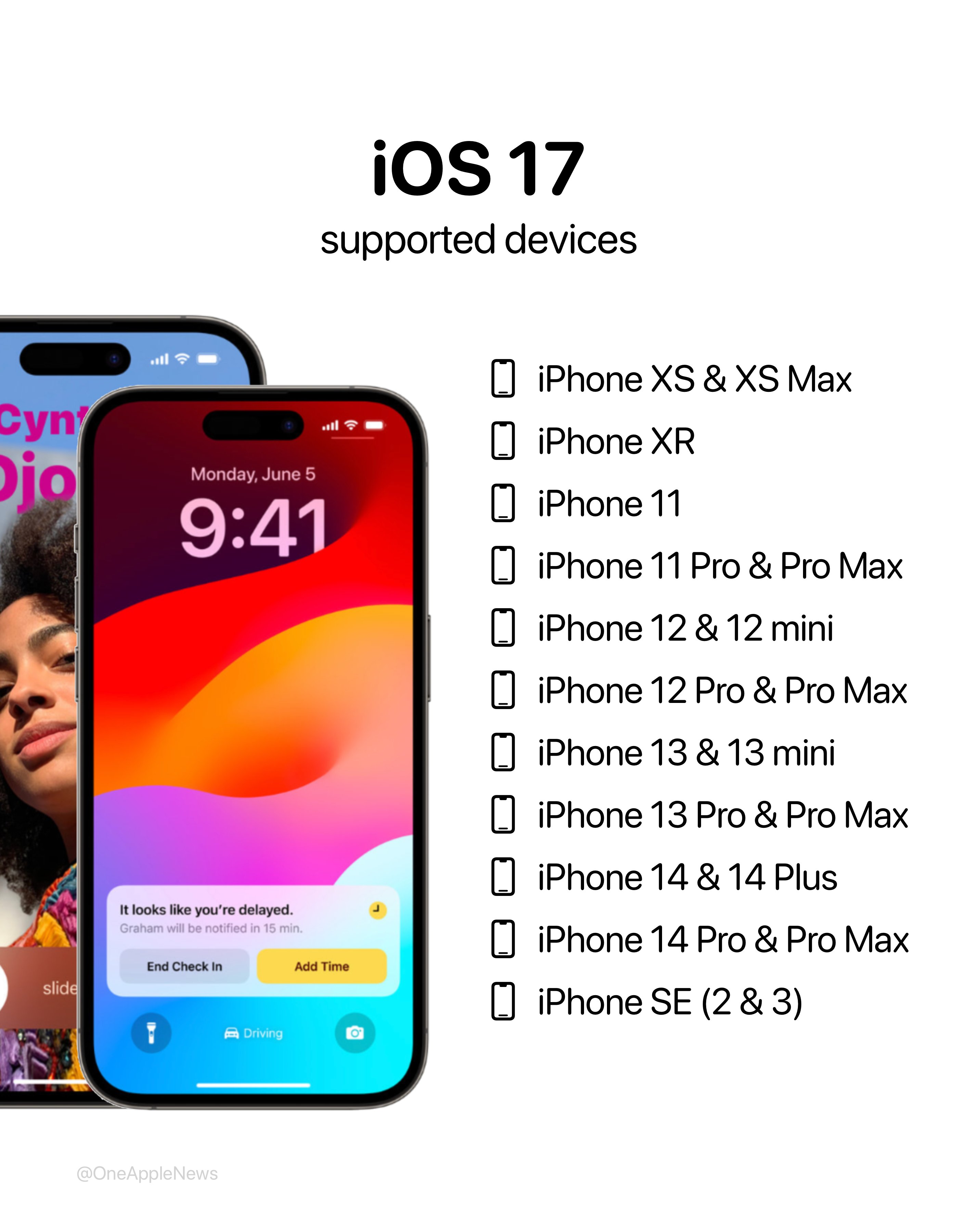 iOS 17 sets a new requirement, mandating at least an A12 Bionic chip or newer. Consequently, the iPhone X, iPhone 8, and iPhone 8 Plus, all of which were launched in 2017, will not receive this update. The full list of iOS 17 supported devices includes:
iPhone XS and XS Max
iPhone XR
iPhone 11
iPhone 11 Pro and Pro Max
iPhone 12 and 12 mini
iPhone 12 Pro and Pro Max
iPhone 13 and 13 mini
iPhone 13 Pro and Pro Max
iPhone 14 Pro and Pro Max
iPhone SE (2nd and 3rd gen)
What's New in iOS 17?
iOS 17 is designed to make your iPhone more personal and intuitive. It introduces a variety of exciting features, including:
Contact Posters: Customize your profile appearance when interacting with other iPhone users, allowing for profile photos, unique typography, and font colors.
FaceTime Enhancements: For FaceTime audio and video calls, iOS 17 introduces voicemail support, reactions (hearts, balloons, fireworks, etc.), and features like NameDrop and SharePlay for seamless sharing of content between devices.
Music App Revamp: Collaborative playlists and cross-fade support are now available in the Music app. In CarPlay, SharePlay allows passengers to influence the music selection.
Autocorrect Improvements: 17 features a machine learning-powered autocorrect system that learns from your typing habits, making corrections and auto-fills more accurate. Dictation also benefits from enhanced speech recognition.
StandBy Mode: When your iPhone is placed horizontally on a charger, a new custom smart display interface with glanceable widgets for time, calendar, alarms, and more is activated.
Interactive Widgets: iOS 17 introduces support for interactive widgets on the Home Screen, enabling direct interaction with widgets without launching the associated app.
Accessibility Upgrades: Assistive Access, Personal Voice, and Live Speech are new accessibility features tailored for users with different needs.
Messages App: The Messages app receives updates such as improved access to camera, Photos app, and enhanced sticker functionality. Audio messages are transcribed automatically.
Two-Factor Authentication: iOS 17 enhances the management of two-factor authentication codes, with 2FA codes sent to Mail now supporting auto-fill.
Check In: A feature that combines Messages and Find My, allowing users to notify others when they reach their destination safely.
Live Voicemail: Real-time transcription of voicemails and the ability to answer calls during the message recording. Spam calls are declined instantly.
Journal App: A new app that uses machine learning to suggest moments to journal based on photos, music, workouts, and more.
Also read: Experience the New Features of macOS Ventura
Additional iOS 17 Features
iOS 17 brings a slew of other improvements, including:
Enhanced Private Browsing with Face ID/Touch ID tab locking.
Sharing of passwords and passkeys stored in iCloud Keychain with friends and family.
Apple Maps gains offline maps support and real-time electric car charging station availability.
Robust mental health features in the Health app, including mood logging.
Screen Distance feature promotes healthy device usage for children.
Expanded sharing capabilities for AirTags and Find My network accessories.
Smarter AirPlay with on-device intelligence.
Inner-note linking in the Notes app.
Simplified activation of Siri by saying "Siri."
AirPods improvements, including Adaptive Audio and Conversation Awareness.
Visual Look Up now works in videos, recognizing various objects.
Enhanced grocery list management in the Reminders app.
Improved recognition of cats and dogs in the Photos app.
Conclusion
iOS 17 represents a significant step forward for iPhone users, offering a plethora of new features and improvements across various aspects of the device's functionality. Whether it's customization, communication, accessibility, or convenience, iOS 17 aims to enhance the iPhone experience for all users.
Also read: Apple plans to launch new devices in 2023: Here's what to expect